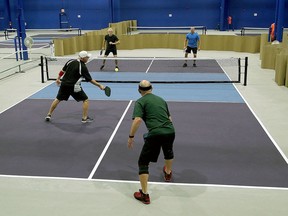 Content of the article
Gone are the days when local tennis and pickleball players had to put away their racquets in the fall or brave winter temperatures outside to play.
Content of the article
Kingston hasn't had an indoor tennis facility since 2004, but soon residents in the city's east end will have a place to play tennis, and also pickleball, indoors year-round, joining a indoor pickleball facility already operational in the west. end.
The Kingston Pickleball Club opened its indoor facility at 1150 Gardiners Rd., Unit 1, in June, just in time to host some Canadian Championship games, although the majority of competition was held at the Invista Center.
On the east side of town, the Kingston Racquet Center is due to open in late October.
There will be two inflatable domes at 1025 Innovation Dr., one housing six tennis courts with other amenities including a fitness room, as well as a dozen pickleball courts in a separate dome.
Content of the article
Pickleball spaces can also be easily converted into volleyball courts.
Tennis coach and instructor Tony Roth is the manager of the Kingston Racquet Centre.
"It's very special. It's going to be a pretty amazing setup," Roth said in an interview. "There are a lot of tennis players and pickleball players in Kingston, and a lot of sports clubs that also lack indoor facilities.
"Tennis is incredibly popular around the world, including in Canada."
Roth said there is also a strong demand for indoor courts in the Kingston area. He said the two domes that will house all the courts are state of the art.
"The technology is so good now. This dome is 90% safer (as opposed to older domes), so when it's windy outside, it's quiet inside.
Content of the article
"It's better insulated and stays warm and stays cold more easily."
Some parts of the dome are clear, allowing sunlight to penetrate inside.
Both domes will have second-floor mezzanines for upstairs viewing of the action below.
Roth, founder and director of Noble Tennis School, said year-round access to tennis facilities will help young players develop their skills.
The members of the Kingston Pickleball Club used to play their matches in the winter at the BGC South East at the Frontenac Mall, but wanted their own club with their own grounds, "with not having volleyball or basketball lines on the court," said club board member Peter Kingston.
The club facility has a proper pickleball surface, permanent nets, changing rooms and a pro shop.
Content of the article
"The challenge is like any club: they have to start recruiting members. And I think it's going to get easier now that people are moving away from outdoor and summer activities," Kingston said.
"Pickleball outside when it's windy and rainy isn't much fun, but that's the beauty of it all. The elements (inside) are very consistent.
The local club hosted the national championships at the Invista Center in 2019 and last June.
"It was the biggest pickleball tournament in Canada," Kingston said.
Kingston said club members have paid membership fees to help cover the cost of setting up the facility.
The club will offer lessons and programs for beginners or players looking to improve their skills, and it will create youth memberships.
Content of the article
It will hold an open house on Saturday, September 24 from 11 a.m. to 4 p.m.
Former Canadian National Basketball Team player Andrea Blackwell has been playing since 2017 with her husband, Rick.
She says she is addicted to sports.
"I'm part of the group of people who found the bug," she said. "We played non-stop."
Blackwell, also a low handicap golfer, said the sport of pickleball is accessible to everyone.
"It's an easy game to learn, play and practice, and I think people really like it these days," she said. "It's not as hard to play as tennis or any other high-energy sport like basketball. You know how to play pickleball after a two-hour introductory session.
"It's just a way to have fun, exercise, have fun and socialize."
Content of the article
The club had 300 members when it played at various locations around Kingston, but now it has slowly rebuilt its membership with people signing annual memberships. The club now has 100 registered members.
"There are definitely a lot of people playing pickleball, there's no doubt about that. What sets our club apart is that we are a dedicated pickleball facility," Blackwell said.
"Ours is a dedicated space, and that's what we wanted to do. We've had a lot of non-dedicated pickleball spaces and a lot of people want to have a dedicated space," he said.
"It's something we felt Kingston needed, and a lot of our members love it."